Having to rewatch films because you miss so much of the spoken word has it's advantages, as I found out with Elijah's short film "Setup, Punch"
(link)
. My interpretation of what's actually happening in the film took a complete u-turn.
Elijah plays Stand-Up Comedian Reuben Stein, who proposes to his girlfriend on stage, is rejected, but manages to finish his performance on a high note. We then see him riding his bike through the streets of LA, evidently very distressed by what has happened.
At least, that was my initial reading of the plot.
The first scene of the film shows a very nervous Reuben in the gents, reading his key-words from a scrap of paper: "music, film, Dot, mirror, moment, Capricorn".

WHAT?? CAPRICORN?
But the Capricorn joke was made on stage AFTER the rejected proposal. Why didn't I notice that before?
So, was it all a setup?
And if so, what to think of the shots of a very disturbed Reuben on his bike?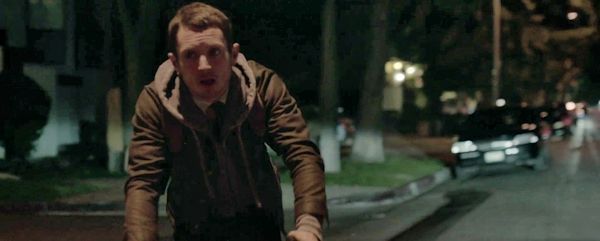 Perhaps, Reuben is coming down from an incredible high after having performed a perfect set. The last few shots look like he's in a state of exaltation rather than despair.
When I first watched the film the following shot puzzled me a lot. Reuben has just chained his bike to the wall and is about to enter the Improv Club.
My first thought when seeing this scene was: Well Reuben got over that trauma very quickly. Elijah must have forgotten that Reuben is supposed to be heartbroken.
But, of course he wasn't.
And when his girlfriend starts her own set with the words: "Are you all comfortable with who you are, as people", Reuben gives this enigmatic smile.
I was reminded of my very first post here on LJ, where I wrote you had to look and think twice to be able to appreciate Elijah's work as an actor!