LJ is still playing tricks on me. Pictures come out huge, letter types and sizes are not as I want them, and whole posts suddenly disappear. I need more practice. So, here goes. The lengthening days, the first catkins on the hazel and the sickle of the new moon I see from my window inspired me to the following post.
A fantasy writer creates his or her own universe and the success of the story depends on absolute internal consistency. Three of my favorite authors are Jane Austen, J.R.R. Tolkien and J.K. Rowling. I love Austen for her subtle irony and biting sarcasm and, let's be honest, because her books have a 'happy ending'. Tolkien is my all time favorite because he writes about deep moral issues and I can lose myself in Middle Earth every time I go there. Rowling appeals to me because her world is so hilarious (and meaningful) to the high-school-kid in me.



Austen stays closest to reality but the fact that her books are still so readable in the 21st century means that the early 19th century social environment she wrote about has become its own fictional and enduring universe. Tolkien and Rowling went much further. Tolkien by creating Middle Earth with new continents, landscapes, plants and animals and, most of all, new rational species. Rowling by creating Hogwarts and the whole wizarding community and ignoring the laws of gravity, the unity of space and time and so much more. But even in their invented universes these authors still adhere to the astronomical rules of the cosmos, the natural rhythm of day and night, the changing seasons and the waxing and waning of the moon.
Tolkien is the most meticulous in keeping it real. He follows the changing seasons closely, even accounting for differences in latitude (e.g. Ithilien vs. The Shire). He is also very "moon-conscious". He is known to have rewritten whole sections of The Two Towers because the moon was behaving differently in different parts of Middle Earth. In a letter to his son Christopher, dated Sunday 14 May 1944, he wrote: "…. trouble with the moon. By which I mean that I found my moons in the crucial days between Frodo's flight and the present situation (arrival at Minas Morgul) were doing impossible things, rising in one part of the country and setting simultaneously in another. Rewriting bits of back chapters took all afternoon."

The moon sets over Gondor: Faramir and Frodo at Henneth Annûn. Bottom pics: Frodo gazes at the moon (l),
turns away (m) and notices Gollum (r) (screencaps from LOTR: The Two Towers) (NOTE: I couldn't resist putting
in some pictures of Frodo here!)

Tolkien also struggled with the phases of the moon in The Hobbit. In this drawing of the death of Smaug he drew a full moon but made a remark in the margin that reads: "The moon should be a crescent: it was only a few nights after New Moon on 'Durin's Day'."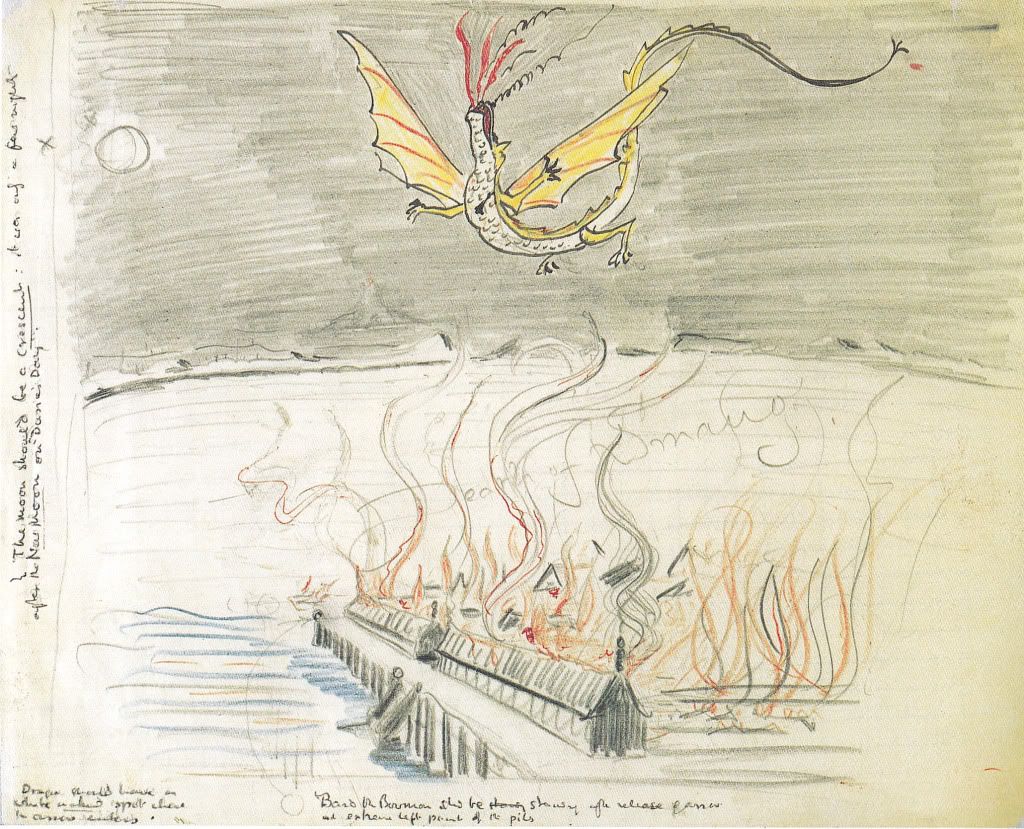 Death of Smaug. Drawing in pencil, coloured pencil, black and red ink; taken from: J.R.R.Tolkien: Artist and
Illustrator by W.G. Hammond and C. Scull, HarperCollins publishers 1995 (ISBN 0-261-10322-9). This drawing was
used as book cover for the 1966 Unwin paperback edition of The Hobbit.

Jane Austen also keeps it real. I admire the way in which the mood and outlook of her characters changes with the changing seasons. But she did slip up once. In Emma she allows an orchard to blossom in midsummer, when the flowering season is well over. She must have felt that orchards should actually blossom longer than they do because she didn't change the text when this error was pointed out to her.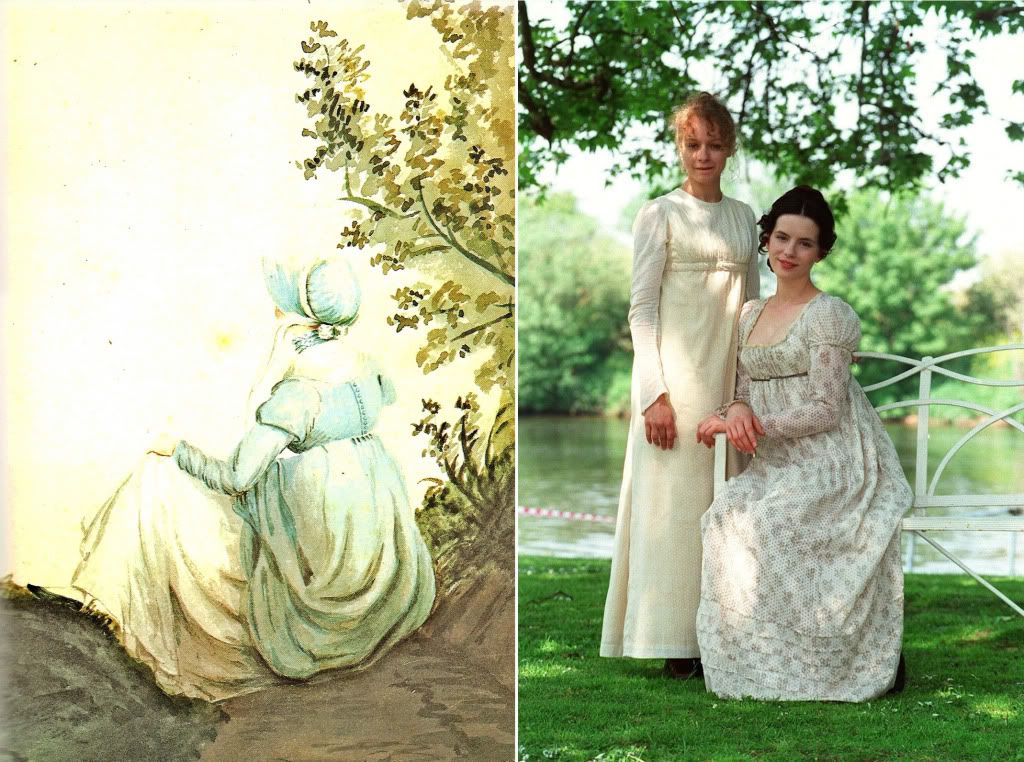 Jane Austen's Emma. Left: Jane Austen painted by her sister Cassandra in 1804.
Right: Kate Beckinsale as Emma Woodhouse and Samantha Morton as Harriet Smith
in Andrew Davies's film adaptation of Emma (1997)


Rowling seems to slip up a bit more. Hogwarts is obviously located in the north. We read about the long winter nights and the long days of summer. But in the last part of The Deathly Hallows day-lengths are behaving strangely. At Hogwarts the days seem to be shorter than they are further south, which doesn't fit in with the time of year (March to late April). For instance, when Harry slips into Voldemort's mind after arriving at Shell Cottage he sees Voldemort "in the predawn" at Hogwarts but quite a bit earlier he has already seen "a bright gold rim of dazzling sun rising over the horizon" at Shell Cottage in the south. Does this mean that there is a time-lapse between Voldemort's action and Harry's perception of it? Another example is when the three friends disapparate from the place where they have landed after their dragon ride "the lake, deep-blue shot with gold from the failing sun" to Hogsmead and Harry says to Hermione: "It'll be dark, no one's going to notice our feet". This is late April when days are already quite a bit longer in the north than in the south. Does this imply that the dragon actually flew them to a spot north of Hogwarts? All in all, I'm confused and it bothers me a bit. And that is strange because so many other confusing points in this weird story don't bother me at all. Perhaps I am too firmly adhering to the rules of the cosmos.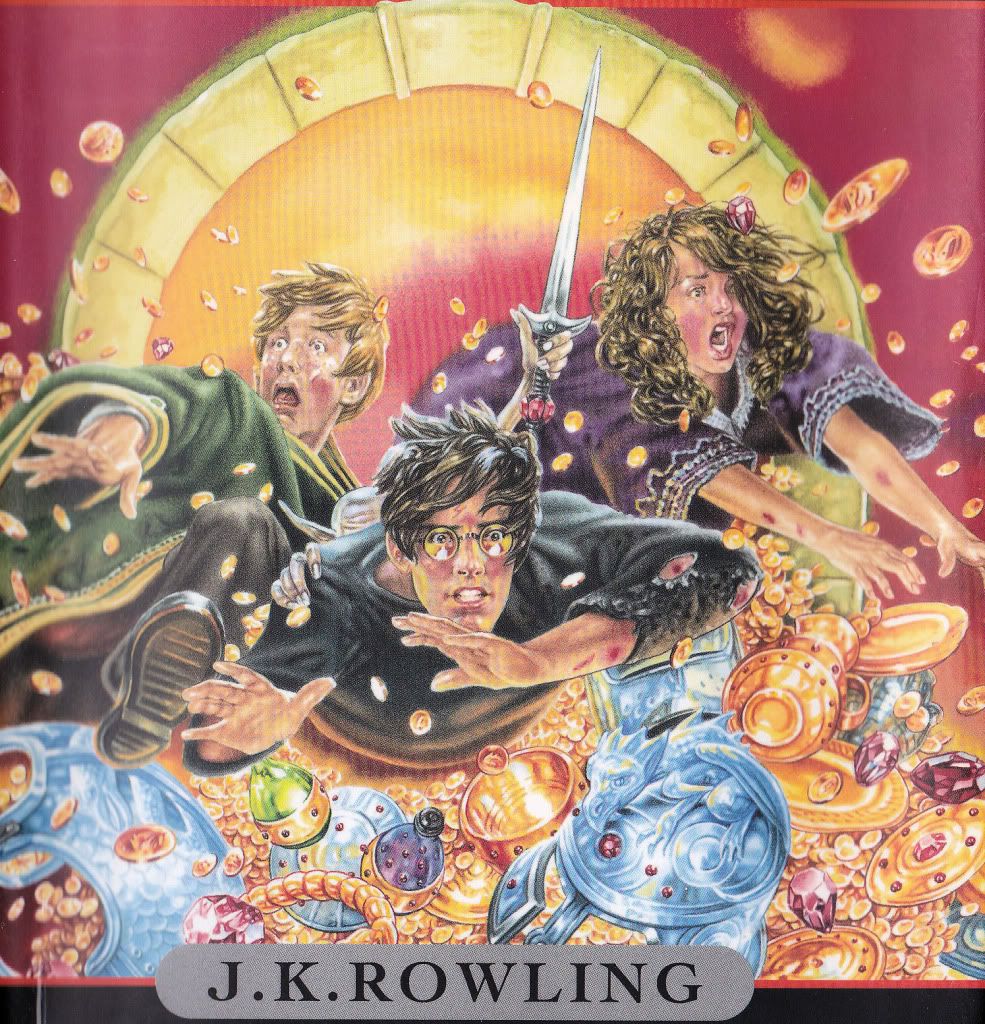 Harry Potter and the Deathly Hallows. Book cover of the Bloomsbury edition (2007)